ReSurfX recognized as "20 Most Promising Data Analytics Solutions Providers – 2017"
March 24, 2017
ReSurfX has been recognized the "20 Most Promising Data Analytics Solutions Providers - 2017" by CIOReview magazine. We consider this a great honor that our creativity, value to market and customer centricity is recognized yet another time.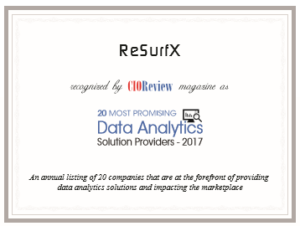 The list of 20 Companies can be seen here: //data-analytics.cioreview.com/vendors/2017/
The profile of our company has been published in online format online format and magazine format .